Cold Weather Sailing Guide: Thermal Sailing Tops
Summer time sailing is simple when it comes to gear - put on your favorite board shorts, grab your life jackets, and hit the water. Sailing in cold weather can be equally rewarding but requires the right sailing gear. In this article we're going to take a look at Thermal Sailing Tops, including why they are important, how they fit in your kit, and what options are available.
A thermal top sits between a basic spandex top and a traditional spray top. These layers are designed to keep you warm and offer some protection from wind and spray. It is common to see terms such as hydrophobic (repels water), fleece (warm lining) and neoprene (insulating material) when browsing the various tops available. These different fabrics work together to keep you warm and comfortable on cold sailing days. Let's break the various tops down into three main categories: tops for cold, colder, and coldest.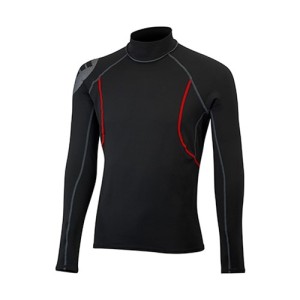 Gill Hydrophobe Top
Thermal Sailing Tops for Cold Conditions
The basic thermal sailing top offers a small amount of warmth for cold sailing conditions. Common characteristics are a thin fleece lining with a hydrophobic coating on the outside to help repel water and wind. These tops are not waterproof, but on calmer days may offer just enough protection. Perfect as a first layer when worn under a heavier top or a traditional spray top. Our favorite choices for this weight of top are the Gill Hydrophobe Top (available in Men's, Women's, and Juniors), the Zhik Hydrophobic Fleece Top (available in Men's and Juniors), and the Ronstan Thermal Top (available in Adult and Junior sizes). Each of these tops work much the same way, but everyone has their favorite brand! Our staff pick is the Gill Hydrophobic Top because it has options for Men, Women, and Juniors and is a great value.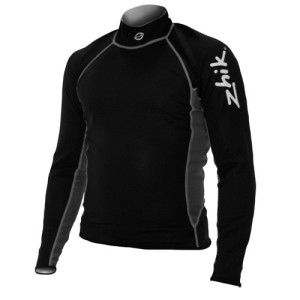 Zhik Titanium Top
Thermal Sailing Tops for Colder Conditions
Medium weight thermal sailing tops offer additional insulation and protection from wind and spray. They typically combine a lining and a neoprene outer layer to insulate and keep you warm. We currently offer three great options: the Zhik Titanium Top, which combines a .5mm Neoprene outer with a heat reflective lining, the Helly Hansen Blackline Top, which is made from a stretchy 3mm neoprene, and the Zhik Orspan Top, which is the heaviest of the three combining a plush fleece lining with a neoprene outer. Using one of these tops with one of the lighter weight tops discussed above is a great way to build a versatile and adaptable layering system. Our staff pick is the Zhik Titanium Top because it really compliments the strengths of a hydrophobic top, providing great protection and additional insulation in cold conditions.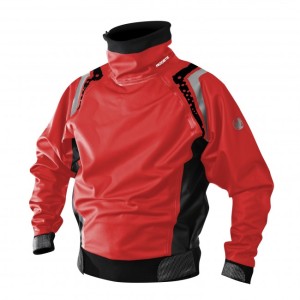 Rooster Aquafleece Pro
Thermal Sailing Tops for Coldest Conditions
Sailing late into the Fall or during the Winter months? These tops are for you. We have a couple of unique options for winter sailing, including fleece lined smocks and multi-layer neoprene tops. Both the Rooster Aquafleece Pro and Gill Thermal Softshell Dinghy Top are fleece lined with a softshell material on the exterior. While not fully waterproof, these tops offer much of the protection of a traditional spray top with an added fleece layer. On top of that, they are ultra comfortable! If you're looking for a more snug fitting top layer for winter sailing, consider the Zhik Superwarm Top or SEA Ultra Warm Top. Each of these tops use a combination microfleece lining, a heat trapping layer, neoprene insulation, and a hydrophobic outer coating to keep you warm on the coldest days. While not a substitute for a drysuit or fully waterproof, these tops are about as close as you can get to the protection and warmth of a drysuit while maintaining a higher level of mobility in the boat. Our two staff picks here are the Rooster Aquafleece Pro and the Zhik Superwarm Top.
Final Thoughts on Thermal Sailing Tops
As demonstrated above, there are many different options for cold weather sailing tops. When picking your next top, consider a few variables: what gear do I already own that might compliment a thermal top? Do I want to sailing in the winter this year or just the Fall or early Spring? Would I prefer a single piece (tops for coldest conditions) or a combination of tops for more layering possibilities? How cold is the water or air where I'm sailing? Keep in mind that many of the light and medium weight tops work really well with a traditional spray top, which you may already own. There is no right answer, but we hope some of this information helps. Consulting fellow sailors who sail the same boat as you or at a similar venue is always a great way to gain insight. Look for our future article on wetsuits to help complete your cold weather sailing kit!
Shop Thermal Tops