Posted by West Coast Sailing on Aug 29th 2013
For one week in August, the best Tasar sailors from around the world gathered in the Gorge to find out who would be crowned the next Tasar World Champion. The 60 boat fleet from Australia, Europe, Japan, and North America was described by some as the most competitive fleet at a worlds in years and included Olympic medalists, past World Champions, and well known sailors from other classes. As the North American Tasar supplier, we were stoked to have this event right in our backyard and to be part of the action. The best sailors sailing fast boats in big breeze - what's not to love!
At the end of 14 well sailed races, a group of Seattle sailors came out on top. Congratulations to 2013 Tasar World Champions Anthony Boscolo and Haley Lane who posted an impressive 40 points over 14 races in this highly competitive fleet. Fellow Seattle sailors Mike Karas & Molly Jackson, Dalton & Lindsay Bergan, Jay & Lisa Renehan, and Jonathan & Libby McKee rounded out the top 5.
Full results can be found here. Also be sure to check out a great series of Videos by Bill Symes and great action shots by Jan Anderson of Jan's Marine Photography.
We enjoyed being on site all week long not only to assist with parts and breakdowns, but also to catch up with friends new and old from all over the world. Big thanks to everyone who made the trip to Cascade Locks, and especially to the volunteers at the Columbia Gorge Racing Association for putting on a world class event. Well done everyone!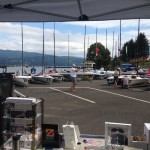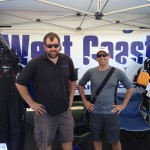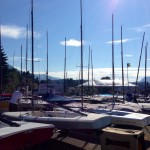 Tasar Worlds Practice Day Chris & George hanging out at Mid week at Tasar Worlds...
the West Coast Sailing tent. the action continues!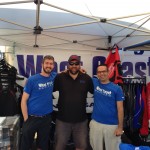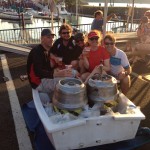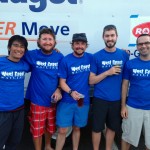 Phil, Chris, and George at the West Coast Sailing Happy Hour Sailors from all over the world
West Coast Sailing tent. representing the blue shirts!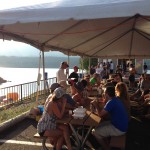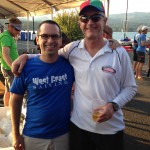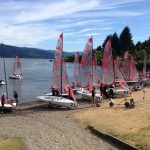 Alistair Murray from Ronstan George & Alistair from Heading out for the final day of
giving out daily prizes. Ronstan. Tasar Worlds.