Posted by Philip Krug (Staff) on Jul 24th 2019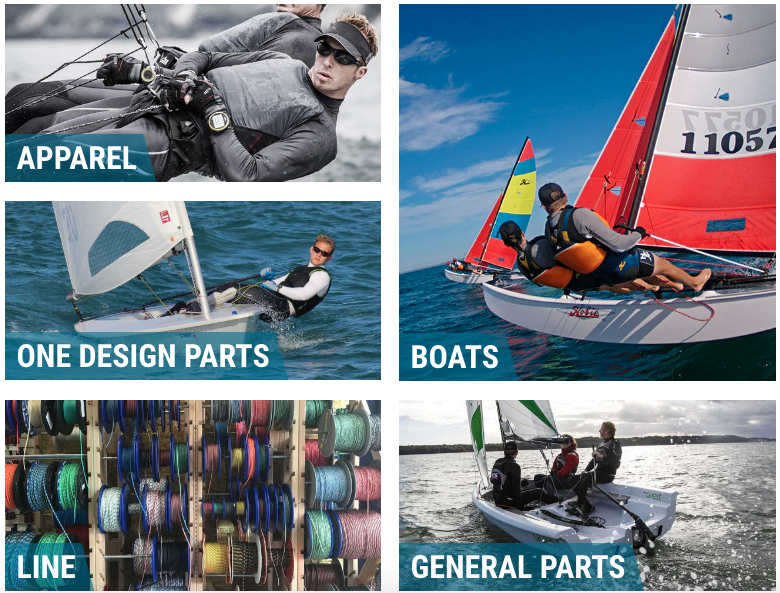 Over the past year we have invested heavily in making our web experience the best in the sailing industry, adding more products and making them easier to find, improving site speed, and offering a fast and efficient check out process. We understand that you want to be able to find what you need and get it to your door quickly so that you can get back out on the water. We hear you, and are working day in and day out to provide the experience you've come to expect when shopping online. While we're not Amazon (and never will be), we hope these improvements will continue to help make West Coast Sailing your preferred source for sailboat parts, apparel, accessories, and new boats.
Here's what we've been up to, in case things look a bit difference since the last time you visited:
New Categories
West Coast Sailing offers a huge range of product, and organizing it so that you can quickly find what you need can be a challenge. We've recently expanded the number of categories on our homepage from three to five to bring more product to the surface. Here is an outline of these categories and what you'll find in them:
Apparel - Everything from life jackets and boots to gloves and hats, if you wear it sailing you'll find it here. This also includes common accessories like trapeze harnesses, gear bags, and sunglasses.
One Design Parts - This category is new! To more clearly distinguish between boat-specific parts (ie, one design parts or parts supplied directly from boat manufacturers) and general sailboat hardware, you can now find parts for dinghies, keelboats, and Hobie kayaks.
Dinghy Parts - One design parts and fittings for Laser, Sunfish, Hobie Cat, 29er, Optimist, and other small one design sailboats.
Keelboat Parts - Hardware, parts, and fittings for larger keelboats like J Boats, Melges, Etchells, Sonar, and Star.
Hobie Kayak Parts - The full range of Hobie Cat supplied parts and accessories for their range of kayaks.
General Parts - While One Design Parts tend to be specific to a certain sailboat, general parts can be used on any number of sailboats, big or small. We offer a wide range of blocks, cleats, shackles, pins & rings, traveler tracks and cars, winches & winch handles, inspection ports, covers and bags, dollies, trailers, and racks. The list goes on!
Line - West Coast Sailing now offers more than 100 different sailboat line and rope options in 1 mm to 12 mm. We've organized these based on common use type (halyards, sheets, control lines), diameter, and key features. Whether you need a new control line for your Laser boom vang, jib sheet for your J24, or main halyard for your cruising boat, we have the perfect line for you available by the foot.
Boats - New sailboats from RS Sailing, LaserPerformance, Ovington, Zim Sailing, McLaughlin, and Hobie Cat plus the full range of Hobie Kayaks. We have tons of boats in stock with freight options available anywhere in the US.
New Products - Expanded Line Range
Earlier this year we added a more complete range of sailboat hardware from Harken and Ronstan including blocks, traveler cars and tracks, winches, handles, furling systems, and other fittings often found on larger sailboats. To further support a large range of sailors, we've also expanded our offering of line with many popular options for sheets, halyards, and control lines commonly found on keelboats and cruisers.

Several highlights of our new offering include:
Shop our entire range of line here: https://westcoastsailing.net/parts/line/