SPONSORED SAILING TEAM NEWS
This month we check in with several of our sponsored sailing team members, including Chris Barnard, Talia Toland, and Owen Timms. It is an honor to work with such talented and hardworking sailors, both on and off the water!
BUSY FALL SEASON FOR OLYMPIC HOPEFUL CHRIS BARNARD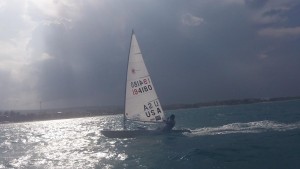 It has been a very busy couple of months for Chris, following a successful summer after winning the North American Championships.
August was filled with a long, intense month of fitness training at the US Sailing Center in Miami, Florida, working with the Jaguar Therapeutics staff. Chris worked hard to improve hiking posture and explosiveness, a key technique to help speed in the stronger winds. Typically the workout stated with a 15 minute bike ride to the gym, an hour and half workout, followed by another hour or so of recovery, stretch, and physical therapy to properly get ready for the next day, and a 15 minute bike ride back home. Combine this with eating right along with more recovery and stretching at home, Chris could see and feel the changes right away. This went on for four weeks, and huge gains were made.
During September, Chris continued working on the gym program, but also got back into the racing after 6 weeks of being out of the boat. He traveled to Qingdao, China for the Sailing World Cup event. Rustiness from being out of the boat showed, particularly in the strategic and tactical decisions and finished a disappointing 24th. It was a very light and fickle week of sailing with tricky current patterns. However, time off from sailing was well spent on key areas of weaknesses, which will be much more important in the long run. October rolled around and it was heavy on the water training. Chris went down to Cabarete, Dominican Republic and got settled into 2.5 weeks of hard sailing in generally strong winds and big ocean swells. Coach Javier "Rulo" Borojovich pushed Chris hard and could see the results from the gym work and how much his hiking posture and power improved.
Chris is currently entering another hard block of fitness, working on strength and the cardio and muscular endurance aspects of his program. All this is in an effort to peak at the Olympic Trials next year. He is back in Miami after a cross country road trip, working hard on his fitness and spending long hours on the water. Miami is the site of the first half of the trials, so he hopes the effort now will make him more comfortable at the venue by the time the event starts in late January.
This report comes from Chris Barnard. You can follow his progress online at chrisbarnardsailing.com
SUMMER RECAP WITH RADIAL SAILOR TALIA TOLAND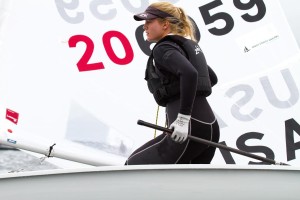 Talia has had a busy summer of sailing around the U.S. and beyond. We are pleased to share her report on a successful season.
"I have had a busy summer of sailing across the United States and Canada, competing in local, national, and international events. I finished the local season placing first overall in the North West Youth Racing Circuit for laser radials, winning all but two races in the last event, Octoberfest at Sail Sand Point. I was also close to qualifying to represent the United States at ISAF Youth Worlds by placing 12th overall at US Youth Champs, making me first alternate for the women in laser radial. Representing the USA at ISAF Youth Worlds is one of my goals for the 2016 season. Some other major results from the summer were placing 23rd overall in the US Nationals, 3rd for US Women's Singlehanded Championships, as well as placing 13th at the Girls Radial Youth Worlds in Kingston, Ontario and 20th at the Canadian Youth Championships."
"Recently, I qualified to represent NWISA at the Cressy Championships sailed at Old Dominion University in Norfolk, Virginia on the last weekend of October. This was a challenging event with light and shifty winds. I had a tough first day but was able to work back into 12th overall with some strong races on the second day of the event. It was great to learn more about high school fleet racing and meet up with some friends from the summer again. I also traveled up to Vancouver to train and compete in the Blue Nose Regatta at Kitsilano Yacht Club where I placed 2nd. I look forward to some more training moving into winter with the US Olympic Development Program and my teammates from RVYC and SYC. Some of my upcoming events are Ft. Lauderdale OCR and World Cup Miami as well as Laser Mid-Winters East and West. Thank you to my parents, the Seattle Yacht Club Foundation, the Pacific International Yachting Association, and West Coast Sailing for their great support."
Right on Talia! We're happy to support you and your sailing goals.
OWEN TIMMS MAKES THE MOVE FROM OPTIMIST TO LASER
When we first met Owen, he was entering the top of the game in the Optimist class. He had a great summer season, concluding with a win at the 2015 Octoberfest Regatta and overall winner of the NWYRC series. What a way to conclude a brilliant Opti career! Owen contacted us earlier this fall about getting into the Laser, and we were stoked to help him out with a new boat. Check out this great video he shared with us from one of his first sessions. Looking good out there Owen!
Find out more about are various sponsorship programs by clicking here.