Posted by West Coast Sailing on Sep 15th 2014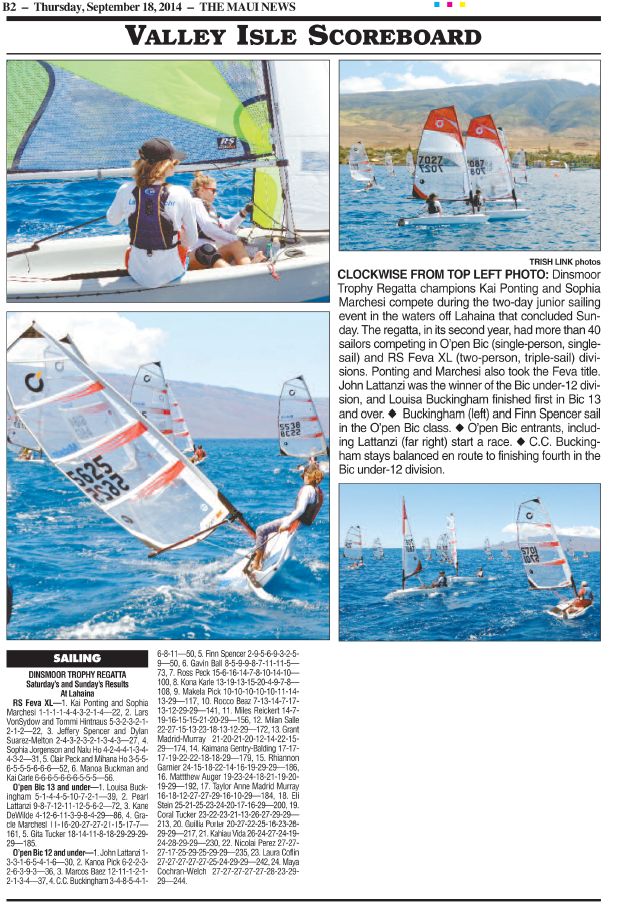 What happens when you mix fun boats, close racing, and a beautiful venue? Tons of excited sailors, and a clear indication of the growth of youth sailing in the state of Hawaii. Our very own Andrew Cannard (Customer Service Manager) headed to Hawaii to check out the Dinsmoor Trophy Regatta at Lahaina Yacht Club. Thank you to Mike Sowers for the following regatta report.
The 2nd Annual Keith Dinsmoor Trophy Regatta was held in the waters off Lahaina over the weekend of September 13th & 14th, with over forty sailors competing in O'pen Bic (single man, single sail) and RS Feva XL (two-man, triple sail) boats. Crews ranged in age between 9–16 years old, and were comprised of members of the Lahaina Yacht Club Junior Sailing Team from Maui and the Hawaii Kai Boat Club Junior Sailing Team from Oahu. This was the largest junior sailing regatta to ever be held in Maui waters and reflects the growth of junior sailing in Hawaii.
Five races were held each day, with three separate classes: Bic under 12 yrs old, Bic over 12 yrs old and RS Feva. The fleets were started separately to spread the boats out on the course, and the racing was close in these one design sailboats. The RS Feva XL is a new sailboat in Hawaii and the 2 person crews have been training rigorously to get them figured out. The kids showed impressive improvements in their tactical abilities and boat handling.
At the end of the regatta there were nothing but smiles all around as the crews congratulated each other at the awards ceremony at the Lahaina Yacht Club. Junior sailing is growing by leaps and bounds on Maui, the boats are exciting to sail and there are motivated sailors and coaches. The event was Hosted by the Lahaina Yacht Club with support from Matson, West Coast Sailing, Trilogy, Bluesmiths, CJ's Catering, Pioneer Inn, Starbucks Cannery Mall, Maui Soda & Ice and the tireless volunteers and coaching staff of the Junior Sailing program. At the end of the day it is about the kids having fun!