Posted by West Coast Sailing on Jun 22nd 2015
These are exciting times for the RS Aero in the Pacific Northwest! Read on for more info on demo opportunities sponsored by the Seattle Aero Fleet and a press release about the inaugural RS Aero North Americans.
SEATTLE DEMO DAYS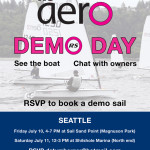 Seattle is leading the way with the new RS Aero, with a small fleet already developing among several early owners and enthusiasts. These sailors have organized two demo opportunities for area sailors at the dates below. This is your chance to check out the hottest single handed dinghy from RS Sailing. RSVP by sending an email to address listed below.
Friday, July 10th, 4-7pm at Sail Sand Point and Saturday, July 11th, 12-3pm at Shishole Marina
RSVP by sending an email to dstumberger@hotmail.com
**This is not a West Coast Sailing sponsored or affiliated event. Please contact dstumberger@hotmail.com with all demo related questions or inquiries**
RS AERO NORTH AMERICANS
PRESS RELEASE
From: RS Sailing
Date: 6/18/16
The Inaugural RS Aero North Americans to be held in the Gorge In a little over 5 weeks, On July 25th, 2015 the first ever international RS Aero event will take place in the breathtaking Cascade Locks, Oregon, just 45 minutes East of Portland. The RS Aero, first launched in March 2014 in the UK, has all but exploded onto the single-handed dinghy sailing scene. There are now over 800 RS Aeros sailing worldwide and build slots are booked up at RS right through to September.
The event will kick off on the Friday July 24th with a coaching day run by Peter Barton, the International Class Association Manager and UK RS Aero guru. The clinic will be open to all RS Aero sailors coming to the event and will be a perfect opportunity to pick up some last minute tips and tricks to get off the start line and sail fast! Those wishing to come try the boat are welcome and should book through West Coast Sailing.
Late Friday afternoon, the opening day will be concluded with the RS Aero Speed Challenge, when each sailor will have 10 minutes to post their fastest time on the Velocitek SpeedPuck reaching across the river. Saturday 25th and Sunday 26th July will see the main championship take place with all 3 RS Aero rigs scheduled to start together. Short course racing will be held with plenty of downwind angles for sailors to make the most of the fantastic wind and waves at the Gorge.
West Coast Sailing, RS Sailing's Western distributor, located in Portland, OR has been instrumental in the making of this event and the growth of several U.S. Aero fleets. The excitement of the West Coast Sailing team has recruited sailors from newly formed Aero fleets through the country. The RS Aero Class has grown from strength to strength since it's launch in 2014 with regional, national and now international events scheduled for 2015 and beyond.
Renowned for its fresh water, reliable breeze and unbelievable scenery, Cascade Locks has been a source of inspiration for Columbia Gorge Racing Association (CGRA), who have been promoting small boat sailing events in the Gorge since 1996. Today the association enjoys a reputation of excellence in regatta management and continues to host a growing number of premier one-design regattas. Over the last 15 years they have clocked up a very respectable figure of over 50 North American, National and World Championships on the Gorge.
Register for the event by June 24th and you'll be entered in a drawing for a free Carbon Fiber Tiller extension from RS Sailing. Regatta Late fee also kicks in July 2nd.
Event website: