Posted by Philip Krug (Staff) on Mar 27th 2019
The following is a Radial fleet report from Walt Spevak from the Spring Dinghy 2019 at St. Francis Yacht Club, the second event of the 2019 Laser Grand Prix series sponsored by West Coast Sailing.
Full Results: westcoastsailing-grand-prix.myfleet.org/schedule/201
Grand Prix Website: westcoastsailing-grand-prix.myfleet.org/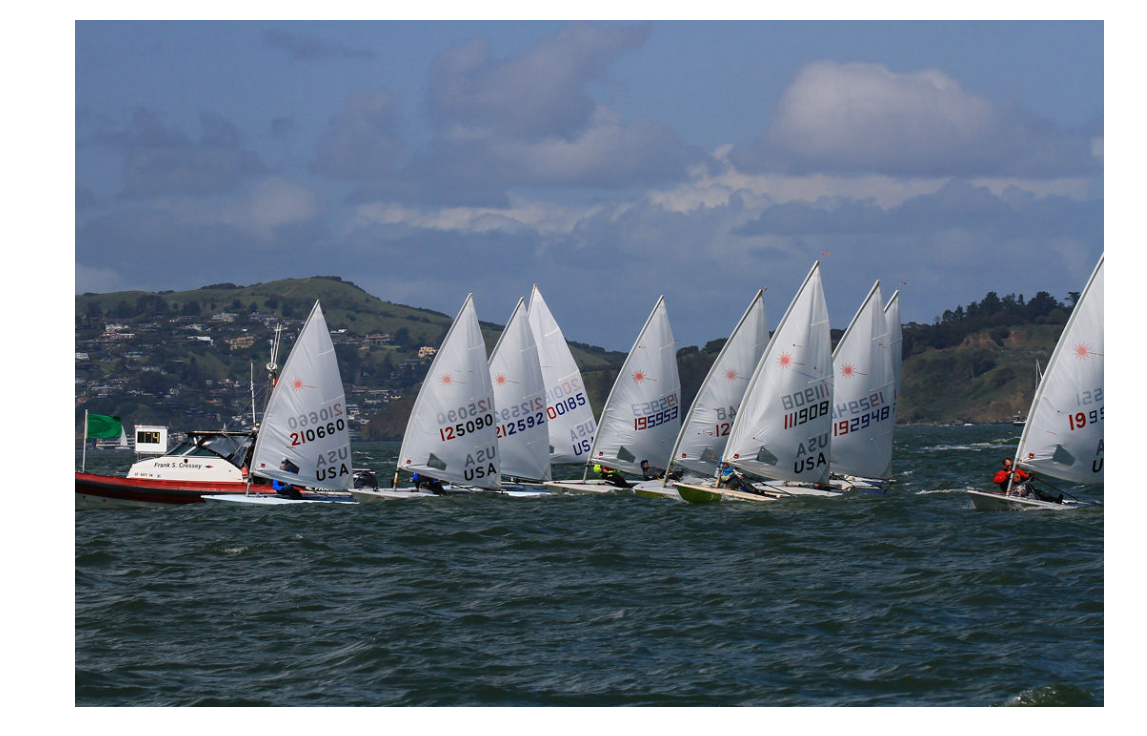 With high teen west winds forecast for Saturday's racing and minimal breeze, if any, for Sunday, the Race Committee announced at the competitor's briefing we'd maximize racing on day one along the city front. Translation....four races. There was also an announcement that whales in the course could cause a race postponement or abandonment. Say what?
A flood tide which would change to an early ebb as the day went on made for simple strategy. Head to the beach for current relief, short tack if needed and then sail the long port out to the mark. Downwind head to the gate or finish line.
Race 1 looked like a carbon copy of our 2018 city front season with Andrew Holdsworth somewhere off in the distance when the race ended. I suggested to Andrew that he spot us all 2 minutes at the start. He was not keen on that idea. Spencer Thompson representing the youth end of the age spectrum finished 2nd with yours truly 3rd.
Andrew led the way around in Race 2 as well, with Spencer and I trading 2nd and 3rd this time.
Race 3 began to see some ebb on the shoreline. On the 2nd upwind Andrew got swarmed by the armada (25 boats) of C420s on the course such that I rounded the mark in first and held Andrew off on the downwind. Laser Great Grand Master Chris Boome sailing 'Geezer' finished 3rd. We salute his boat handling and fitness.
Lest Andrew leaves any doubt of who was best, he did another horizon job in Race 4 with yours truly in 2nd and Chris in 3rd again. We turned up hopefully on Sunday only to be shutout as forecast.
For the series, Andrew was first, your regatta report author second and Spencer 3rd.
About those whales. Sure enough one race was postponed mid-starting sequence and several sailors had sightings!