Posted by West Coast Sailing on Jun 11th 2018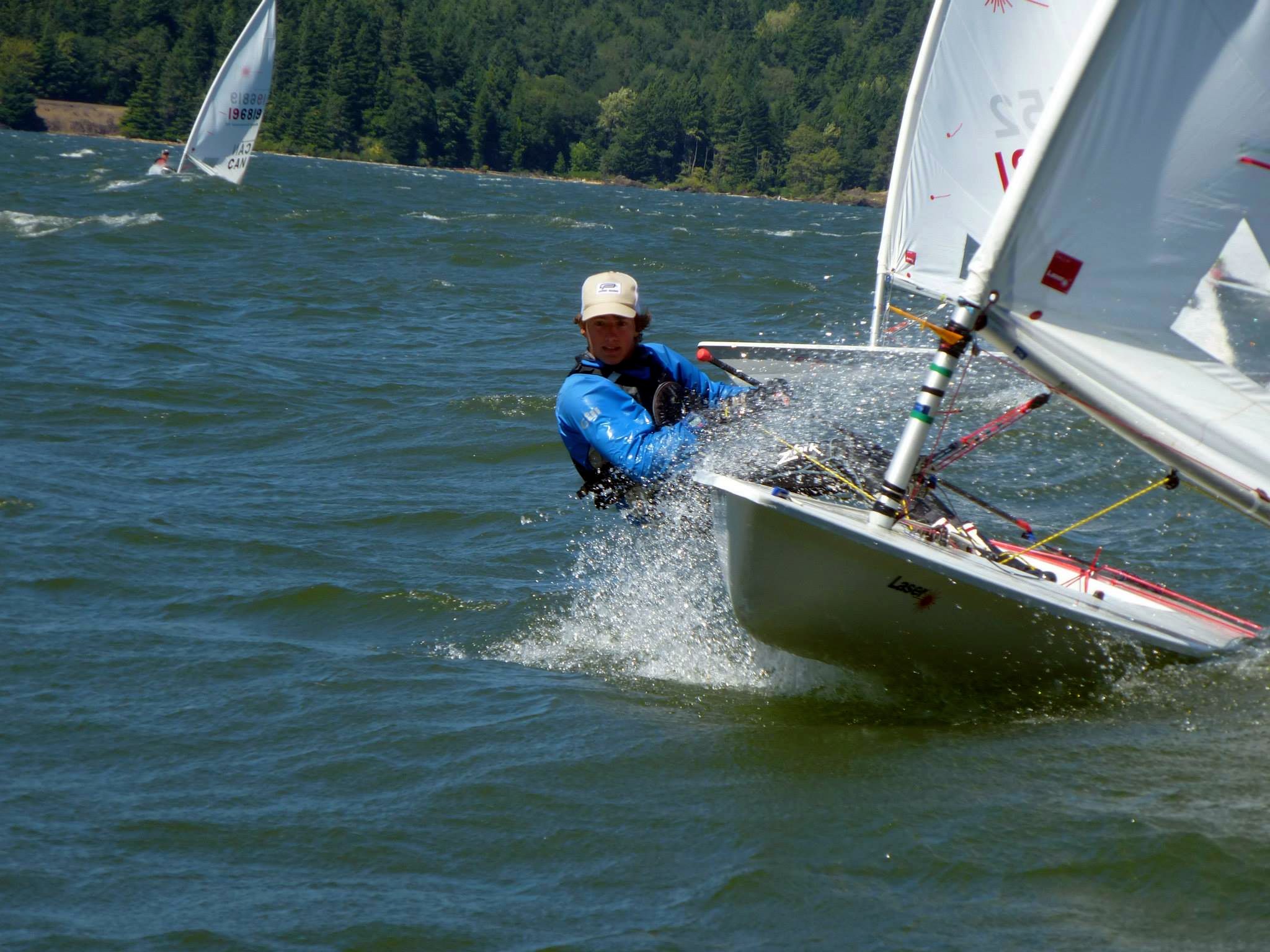 George Yioulos, West Coast Sailing
After having taken some sailing classes, your child is asking for more. Sounds like they are starting to love sailing. Congratulations! Now what...? Whether they need more time for training and practicing their skills, or are itching to participate in regattas, they're going to need a boat. Many clubs and programs have some boats a family can use for a brief period, but, sooner than later you will need to take the plunge. While it might seem intimidating, it doesn't have to be. We'll walk you through the process of buying your kids first sailboat.
Three things to remember before we dive in:
It's doesn't have to be daunting, promise!
There are life lessons your child can learn.
There is a support system already in place for you.
Let's start with what to buy.
In general, you'll want to choose a model of boat that other young sailors are using locally. While you might not agree with what a model of boat represents, don't overthink this. Owning a similar model boat is a ticket into the local sailing community. That is more important than the dogma spouted off by anyone online, in a yacht club, or even ourselves. The sailing community is kind and nurturing, so we want to be involved in that.
Now, there are a number of new models of boats that are infinitely better than the old boats used at most clubs. If you are not near a community of sailors, then, pick a boat that is modern and still supported actively by a manufacturer. If you can get local parents to all get the latest model en masse, that's great, but be choosy and don't buy an orphan boat model.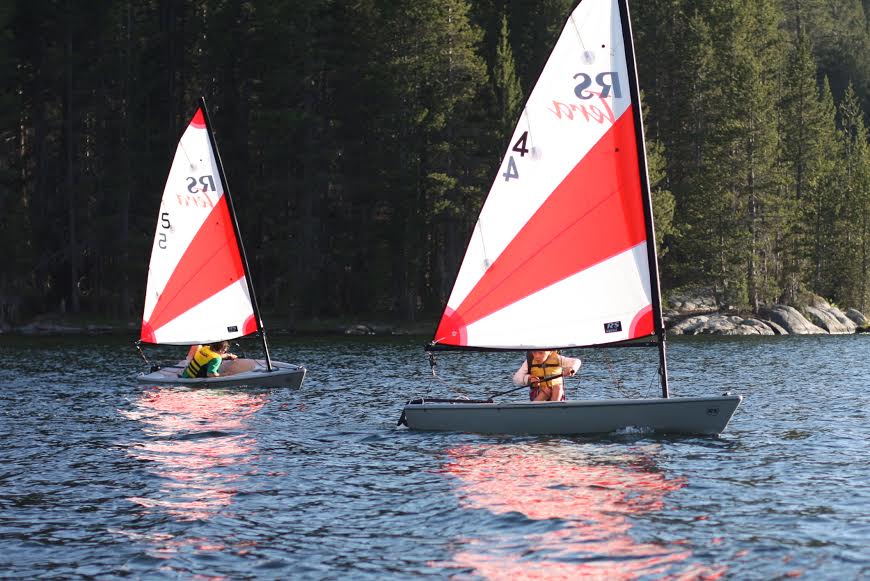 Okay do I need to buy new or used?
Some parents like to buy a brand new boat for their kids. Our experience, in aggregate, is this is wasted spending. Our recommendation is almost always to buy a used boat! For that reason a used boat is a great foundation that can easily be upgraded by replacing some parts or getting new sails. This is actually a golden opportunity to teach your kids some responsibility and encourage them to chip in financially (even if it's for something small). They'll be proud to have earned their boat.
Sounds good, but what's this going to cost me?
Next, you may be thinking that there are most likely a lot of other hidden financial aspects that come along with this new acquisition. The reality is, year to year the cost of owning a boat is low. Think of it along the lines of any other major sport. If you are fortunate to be near a sailing club, joining one is a nice stepping stone, as the community alone will be worth it.
They may even let you store your boat there! If you don't have access to a nearby sailing club that's okay too. Transporting a boat to and from the water does not necessarily require a trailer. A lot of boats can easily be mounted on top of a car's roof rack for transport. So don't sweat it too much, and remember that since boats hold their value, you have the option to re-sell in the future if need be. If you took our advice and bought used, a good condition used Laser, for instance, holds its value pretty well for many years and your financial risk is mitigated.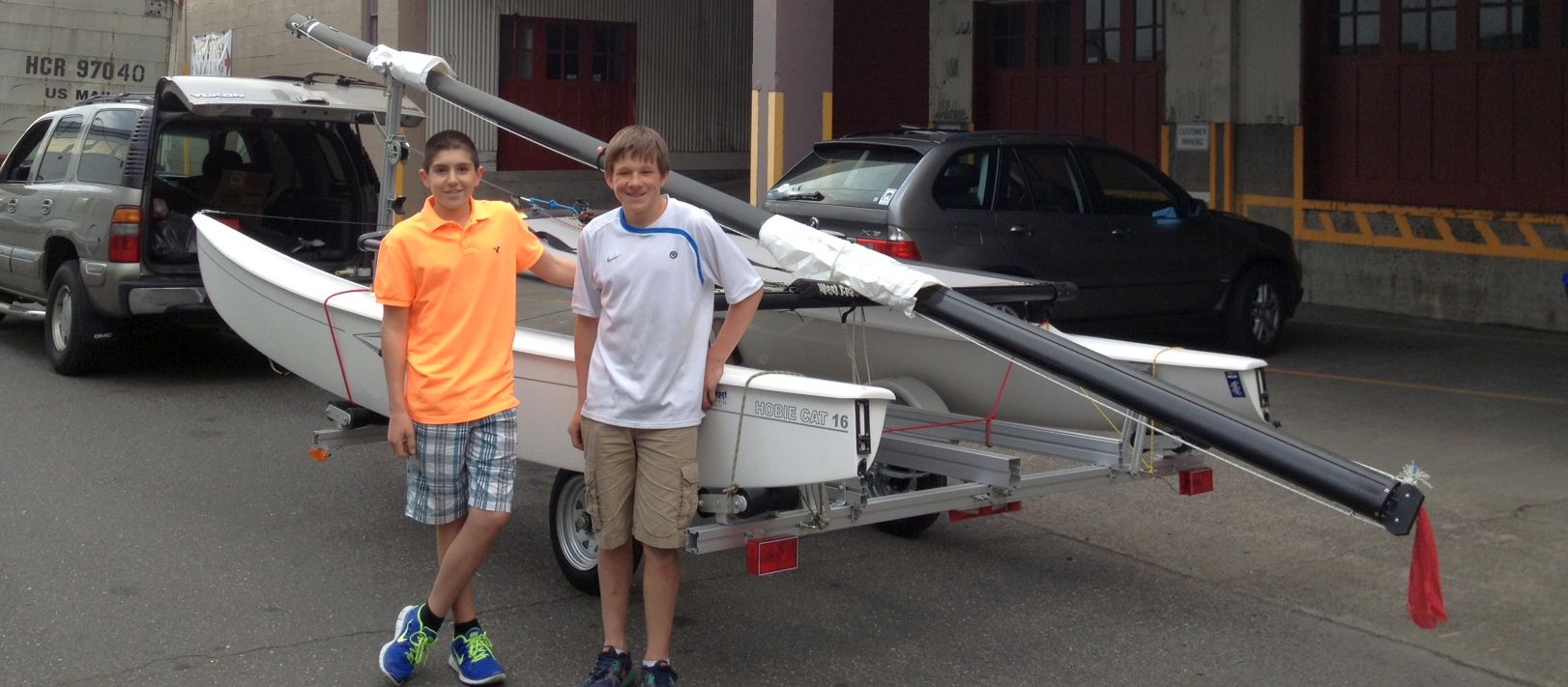 Your kid as the captain of their ship.
Since we got the nitty gritty details out of the way of where to start and how to take the plunge, let's focus on the invaluable life-long lessons this will teach your child. The sport of sailing truly develops kids' independence, confidence and critical thinking. Plus, owning their own boat holds them accountable, imparting on them a whole new level of responsibility. All this while learning and building a new skill set. The personal growth that sailing inherently provides for children is truly priceless.
Community and professional help.
It's important to remember that sailing is a community and a pretty robust one at that. Sailors are looking out for one another and are more than eager to give tips, advice and provide guidance. Keep that in mind when deciding to take the leap into boat ownership.
Like ourselves, there are other dealers around the country that you can talk to as well:
Though we may sound biased, finding an established dealer that can really stand by their products and introduce you to the community will make this all the easier. Some competitors of ours, who really know there stuff are: KO Sailing in Texas, Boat Locker in Connecticut, Zim Sailing in Rhode Island, Sturgis in Massachusetts, and Tackle Shack in Florida. Your regional dealer can be an invaluable resource for finding the right boat.
JanPix_NWOptiChamps_01
Buying a sailboat won't be scary, it will be exciting. And congratulations again on having a child that is passionate about participating in the wonderful world of sailing.
Want to talk to an expert? Reach out to our team anytime at info@westcoastsailing.net or by calling + 1 (503) 285-5536. We've helped thousands of parents with boat purchases over the years and would be happy to answer any questions you have!