Posted by West Coast Sailing on Oct 15th 2014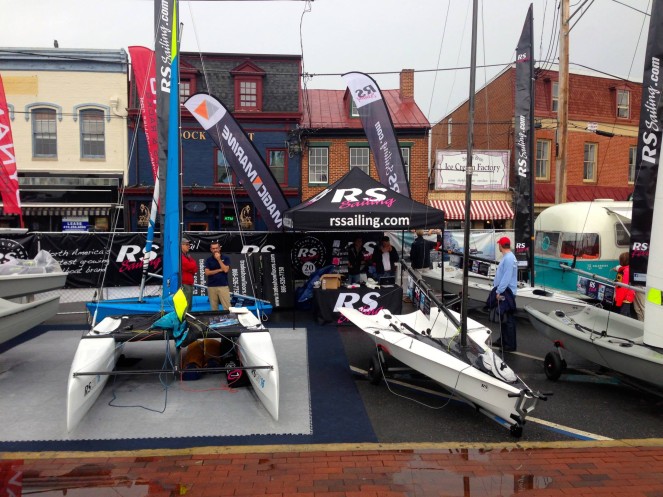 George and Phil headed east to attend the Annapolis Boat Show and RS Sailing Dealer meeting earlier this month. The Annapolis show is a must attend event for sailors and showcases the latest boats, apparel, hardware, and sailing accessories. It is also a great opportunity to catch up with our friends and colleagues from around the industry. We spent a rainy few days at the Boat Locker / RS Sailing booth, talking to interested sailors about the RS Sailing range. The stand looked impressive this year, with much interest focused on the 2015 Boat of the Year nominee, the new RS Aero. Check out this Sailing Anarchy interview with Riki Hooker from RS Sailing and get an inside look at this new singlehanded dinghy.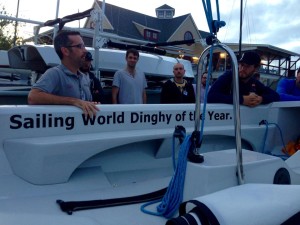 Following a quick teardown Monday evening, the crew moved the boats from the City Docks to neighboring Eastport Yacht Club for the annual North American dealer meeting. This is an opportunity for members of the RS community around the country to gather and get the latest info on boats, sailing activities, and new projects. George (pictured at left) helped walk the group through the new RS Venture, which has been particularly successful at clubs and programs on the West Coast. Seriously, it's a riot! In addition to checking out the boats, we also had a chance to catch up with Carrie from Magic Marine. We're looking forward to offering more of the Magic Marine product range here at West Coast Sailing.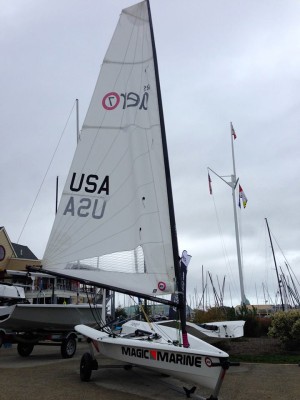 RS Sailing has won a number of Boat of the Year awards over the last few years (RS100 and RS Venture), and this year the new RS Aero is in contention. The hull pictured here is one of the first to land in North America and was used in the BOTY test sails in Annapolis. It was a rainy and blustery day, but overall impressions were outstanding! We had a great time test sailing the boats in the UK last spring, and cannot wait for our first container to arrive later this year.
The RS dealer meeting was a great opportunity to connect, get up to speed on the latest developments, and help plan for the future. We're proud to represent this builder here in the U.S. and look forward to continuing to get more sailors on the water in their exciting and innovative boats. Huge thank you to Riki, Pip, and Jon from RS headquarters in Southampton for making the trip and putting on a fantastic meeting for us. We're lucky to know and work with some of the best people in this industry! We work hard to help you enjoy your time on the water. Sometimes we even like to have a little fun =)