Posted by West Coast Sailing on Sep 20th 2012
Summer is always a busy time in our industry - big events, orders to fill, boats to deliver. The past few months have been filled with excitement and our fair share of hard work. July and August were highlighted by two major events at our local sailing spot, the Columbia River Gorge. The Port of Cascade Locks and the Columbia Gorge Racing Association hosted both the 2012 Laser North Americans and U.S Sailing Youth Championships. More than 170 sailors from across North America came to the Gorge in mid-July for Laser NA's. Several weeks later, the best youth sailors from around the country came to sail 420's, Lasers, and 29er's in the premier U.S Sailing youth event. With two high profile events happening right in our backyard there was never a shortage of work to do! We did our best to keep sailors on the water and performing their best.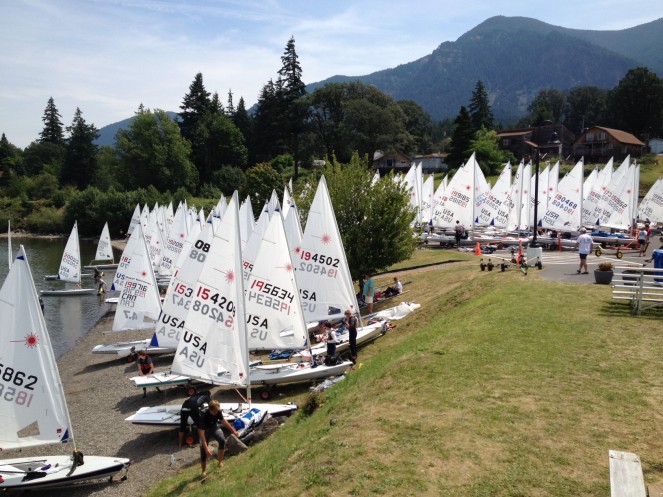 Rigging up on the beach at Cascade Locks
It was our privilege to assist with boat charters, parts and apparel needs, and general assistance for participants in these events. Seeing old friends and making new ones is what our sport and community is all about. We appreciate your support and hope you will be back to sail in the Gorge next Summer. Big shout out to sponsored sailing team members Isabella Bertold, Christine Neville, and Hanne Weaver for their performances. Congratulations to Isabella for her victory in the Laser Radial class. Well done!
For those of you who did not follow the events, CGRA has terrific regatta reports, results, and photos from each event available on their website. While you're there, be sure to take a peak at what is on the schedule for next year.