New West Coast Sailing Website and Online Shopping Experience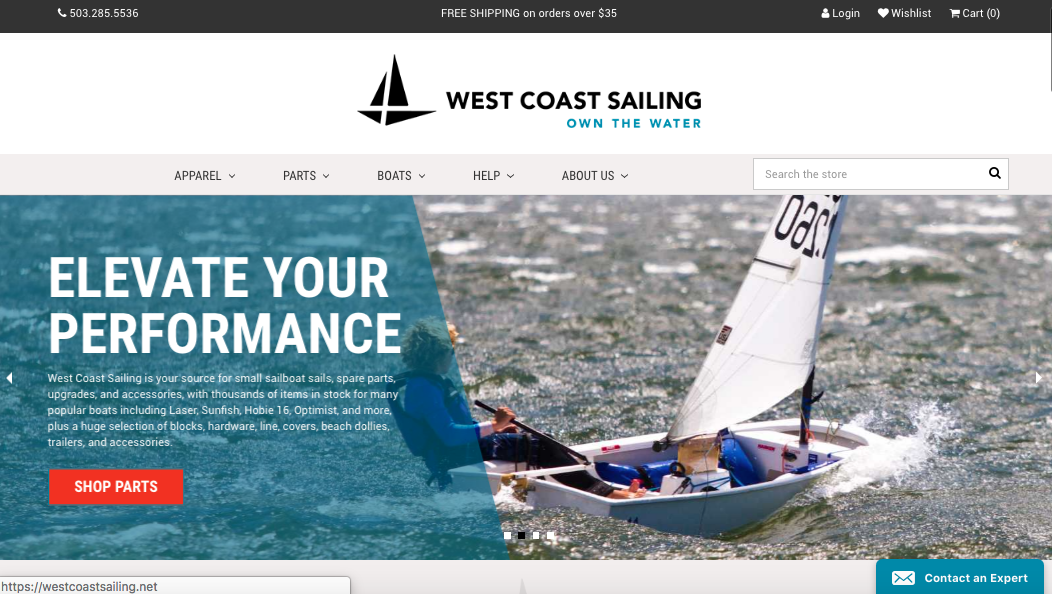 We are excited to announce the launch of our new website! Our team has been hard at work over the last year to bring you a new and improved online shopping experience at West Coast Sailing. Built on a cutting edge e-commerce platform, it is now easier than ever to find the right sailing gear, replacement part, or new sailboat you need to help you make the most of your time out on the water.
A few of the key features we think you'll enjoy:
Improved Site Speed
Our new site is built on an industry leading e-commerce platform to deliver a fast and reliable online experience that works great on any device, from your computer, to tablet, to phone.
Mobile Friendly
To anyone who has had issues browsing our site on a phone, we hear you! Increasing the ease of access to our site on mobile devices was a core mission of our online redesign project. Search, navigation, product details, and checkout are now seamless across any device.
Simplified Navigation
Finding the right piece of gear should be easy. Our new site navigation makes it easier to dive into our well organized and highly curated product categories, whether you're looking for replacement parts, new apparel or accessories, or looking for your next sailboat or kayak.
Guides and Advice
Unsure what you need or new to small boat sailing? We've redesigned our online resources to offer a range of guides and advice, from parts locators and rigging guides for many popular small sailboats to new what to wear guides and gift guides for find the right piece of gear for any sailing need.
A Few "New Site" Tips
If you're new to the site, welcome! We hope you'll find the right gear or advice you need online or by getting in touch with our team. If you've shopped with us before, thanks for coming back. Here are a couple notes for sailors who have previously set up online accounts with us:
If you set up an online account on our previous website, you'll likely need to reset your password the first time you attempt to log in. This is a necessary security measure and we appreciate your understanding.
Previous order information may not be visible within your online account, but don't worry! Our backend system has a full record of any purchase you've made with us. Please contact our team at info@westcoastsailing.net or by calling +1 (503) 285-5536 if you have a question about a previous order.
If you have any issues logging in or resetting a password, please reach out to our e-commerce team at marketing@westcoastsailing.net. We'll work with you to make it right
Thanks again for visiting West Coast Sailing and for the trust you place in us with all of your small boat sailing needs. We look forward to continuing to optimize the online shopping experience so you can spend less time looking for parts and more time out on the water. Reach out to our team any time if you have questions, comments, of feedback.
Happy Sailing!
- The Team at West Coast Sailing