Hobie MirageDrive Guide 2020 Kayak Models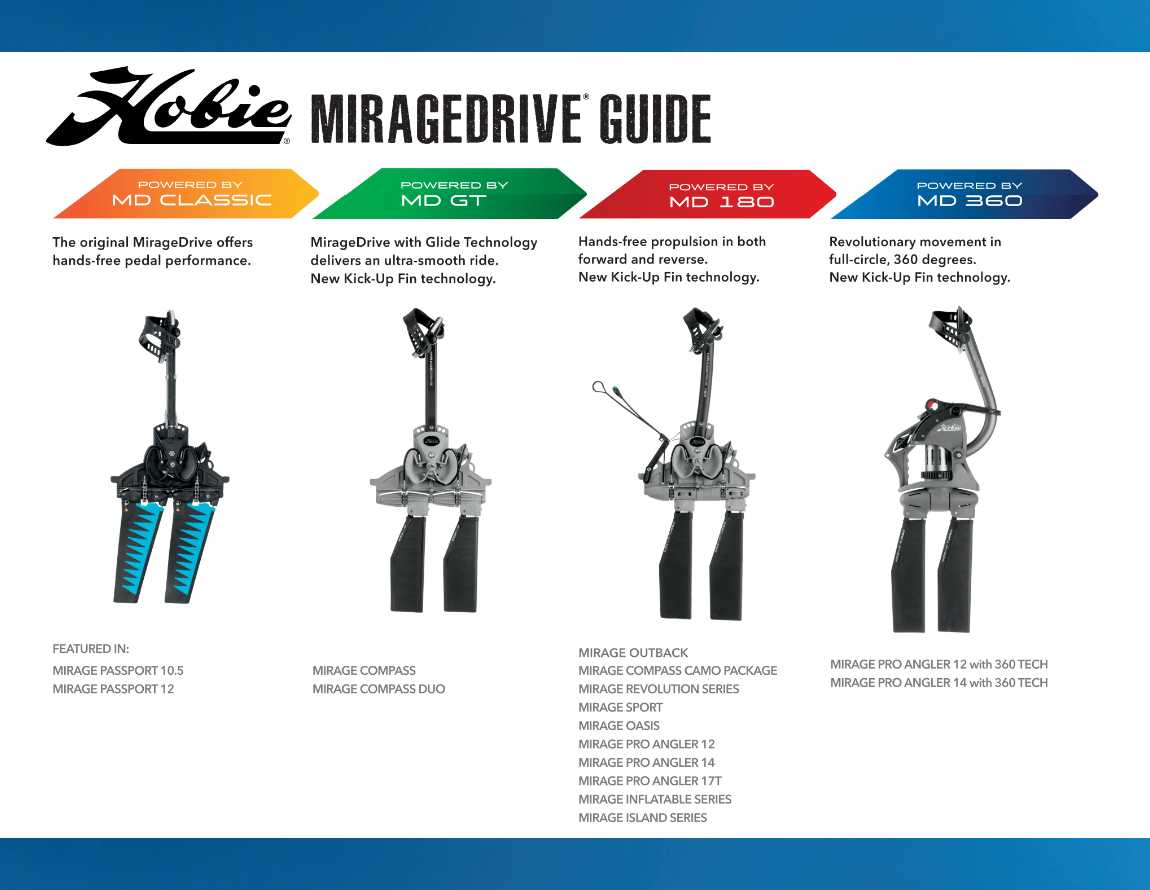 The 2020 model year sees a number of updates to the Hobie kayak collection, including the addition of new Kick-Up Fin technology in the MirageDrive GT (MD GT), MirageDrive 180 (MD 180), and the all new MirageDrive 360 (MD 360). There are now four (4) different versions found standard on kayaks across the range, each one placed in specific kayak models for functionality and pricing.
The MirageDrive Classic (MD Classic) is the origional Mirage Drive, offering hands-free pedal performance. This drive has been found in many Hobie kayaks over the years and, for 2020, is included in the following models:
Mirage Passport 10.5
Mirage Passport 12 (New for 2020)
The MirageDrive GT was introduced a few years ago and features Glide Technology, delivering an ultra-smooth ride. new for 2020, this drive now includes Hobie's latest Kick-Up Fin technology. For 2020, it is included in the following models:
Mirage Compass
Mirage Compass Duo
Introduced just in the past two years, the MirageDrive 180 answered many user's request to easily pedal forward or reverse. This drive really moved the ball forward for Hobie and, for 2020, also includes the latest Kick-Up Fin technology and will be included in most models including:
Mirage Outback
Mirage Compass Camo
Mirage Revolution Series (Revo 11, Revo 13, and Revo 16)
Mirage Sport
Mirage Oasis
Mirage Pro Angler 12
Mirage Pro Angler 14
Mirage Pro Anlger 17T
Mirage Inflatable Series (i9s, i11s, i12s, and i14t)
Mirage Island Series (Adventure Island and Tandem Island)
Finally, at the very top of the range and offering the most advanced MirageDrive technology available, is the MirageDrive 360. This drive offers revolutionary movement in full-circle, 360 degress, so you can have complete control over your kayak. Also includes Kick-Up Fin technology. This drive will be included in a limited number of angler specific kayaks including:
Mirage Pro Angler 12 with 360Tech
Mirage Pro angler 14 with 360Tech
Check back for more updates!