Posted by West Coast Sailing on Oct 24th 2016
The classic neoprene wetsuit has long be a staple for the active dinghy sailor. Thanks to apparel manufacturers like Gill, Zhik, Magic Marine, and others, sailors have great options for sailing wetsuits. In this article we'll look at why you might want to consider one for your kit and what options and styles are available.
How does a wetsuit work?
The purpose of a wetsuit is to provide warmth and protection in cold water or cold air sailing environments. Most are made from neoprene, a synthetic rubber material which insulates against cold water by trapping a small amount of water next to your skin to be warmed by body heat. Special taping and blind stitching techniques are used at each seam panel to reduce the amount of water the can seep in. A close fitting wetsuit will perform, best and most use at least two different thicknesses of neoprene depending on location on the suit. Many sailing specific wetsuits will also include several other materials to maximize this effect based on the unique needs of a dinghy sailor.
Why should I consider a sailing wetsuit?
For the summer time or recreational sailors, we often suggest a wetsuit as a way of extending your "shoulder" seasons - sailing earlier in the spring and sailing later into the fall - where you might encounter chilly days. A wetsuit is typically much less expensive than a drysuit and more versatile across a broader range of conditions, For all but the coldest conditions, a relatively thick wetsuit will provide plenty of warmth and insulation when worn with the right combination of gear.
Full Arm (Traditional) Wetsuits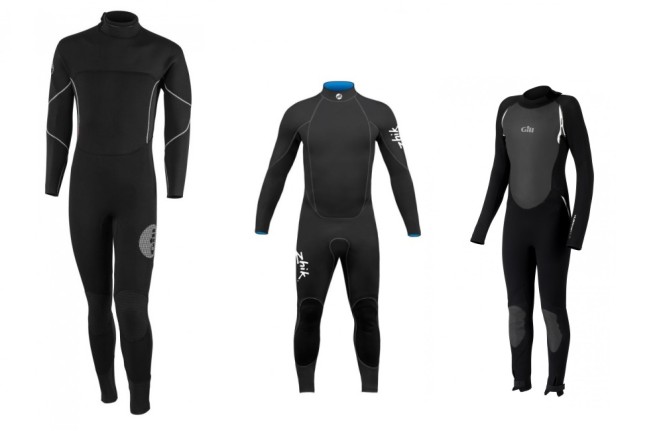 Full Arm Sailing Wetsuits - Gill Thermoskin Wetsuit, Zhik Kid's Steamer Wetsuit, and the Gill Junior Full Arm Wetsuit.
The most traditional style of wetsuit is the full arm/full length that covers everything except your head, hands, and feet. Most sailing specific suits are made from a combination of 5mm and 3mm neoprene. The benefits of a single piece suit like those shown above are simplicity (one piece to put on, great for kids!) and complete coverage.
However, most dinghy sailors find this design somewhat limiting in conditions where water and air temperatures may vary. For this reason we only offer a few full wetsuits including the Gill Thermoskin Wetuit (left) and two junior options from Zhik and Gill, the Zhik Kid's Steamer Suit, and the Gill Junior Full Arm Wetsuit.
Farmer John Style Wetsuits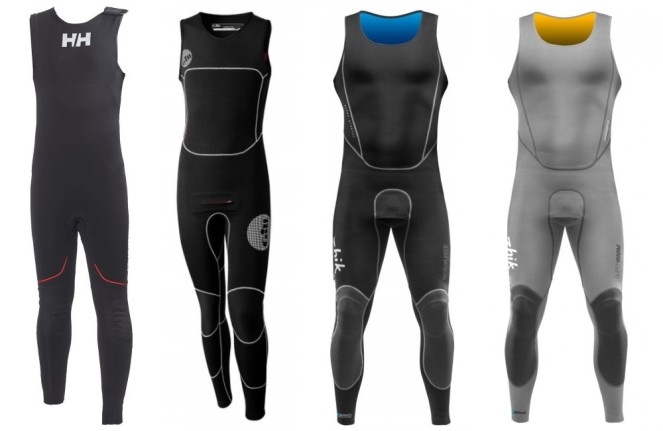 Farmer John Wetsuits (left to right): Helly Hansen Blackline Salopette, Gill Thermoskin Skiff Suit, Zhik Microfleece Skiff Suit, and Zhik Superwarm Skiff Suit.
The most popular style of sailing wetsuit, the Farmer John is notable for having no sleeves. Why no sleeves?! The answer is versatility. The farmer john style wetsuit has all of the core benefits of a proper full length suit but gives you options for how you layer the top part of your body. This means you can account for differences in water and air temperature, since dinghy sailors spend *most* of their time above the water.
When worn with a Thermal Top and a Spray Top on windy says (see our post about Thermal Tops here), you can get all the warmth you need for most sailing conditions. Let's look at four specific wetsuits, which differ in material, end use, and price.
Helly Hansen Blackline Salopette - The perfect entry level wetsuit for scholastic or recreational sailors. It has flatlock seams for comfort and easy velcro shoulder entry. At $120, this 3mm wetsuit is a great value and will work great for most spring and fall sailing.
Gill Thermoskin Skiff Suit - A step up from the suit above, this piece includes a combination of 4mm and 3mm neoprene for added warmth. Includes abrasion resistant seat and knees, relief zipper, stretchy shoulder panels, and the ability to add a pair of Gill's hiking pads. A robust option at $169 (plus $55 for the optional pads).
Zhik Microfleece Skiff Suit - Made from a lightweight and stretchy 1mm neoprene outer layer with a microfleece inner layer that keeps you cool in the heat and warm in the cold, the Microfleece Skiff Suit offers similar warmth to a 3mm neoprene wetsuit with less bulk. The trade off is cost, as this suit costs $269 plus another $135 for pads. However, for the active racing sailor, the Microfleece Skiff Suit is popular and a great option.
Zhik Superwarm Skiff Suit - This is a unique wetsuit that borders on replacing a proper drysuit. Zhik's Superwarm fabric uses a variety of materials to trap heat, insulate the body, and repel water. For the dinghy sailor looking to avoid a bulky drysuit for winter sailing, this is the answer on perhaps all but the coldest of days. This suit is expensive at $335 plus pads, but if it's what you need for your situation it is the perfect cold weather option. Pairs really well with the Superwarm Top and available in both Men's and Women's.
Neoprene Wetsuit Pants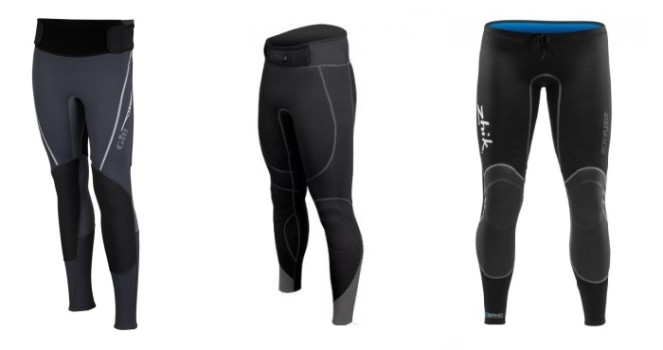 Wetsuit Pants (left to right): Gill Neoprene Wetsuit Trousers, Ronstan Neoprene Pants, and the Zhik Microfleece Pants
While less popular than a Farmer John style wetsuit, the classic neoprene pant still serves it's purpose for some sailors. We offer three options for those looking for a pair of warm pants. The Gill Wetsuit Trouser is a 1.5mm/2mm neoprene pant with waist band and spot for hiking pads. The Ronstan Neoprene Pant is a 2mm pant with waist band and reinforcements for the seat and knees, so it's perfect for boats without as much hiking. At the top end of the range, the popular Zhik Microfleece fabric is also available in a pant as the Zhik Microfleece Pant. Like the skiff suits above, this pant is designed to work with Zhik's Power Pad system.
Final Thoughts on Sailing Wetsuits
As demonstrated above, there are many different options for cold weather wetsuits. For most sailors, a Farmer John offers the most versatility and bang for the buck, but a full wetsuit or pair of pants might work best for you. There is no right answer, but we hope some of this information helps. Consulting fellow sailors who sail the same boat as you or at a similar venue is always a great way to gain insight. Be sure to check out our recent post about Thermal Tops to help complete your cold weather sailing kit if you opt for a Farmer John Wetsuit or pair of Neoprene Pants.
Shop Sailing Wetsuits